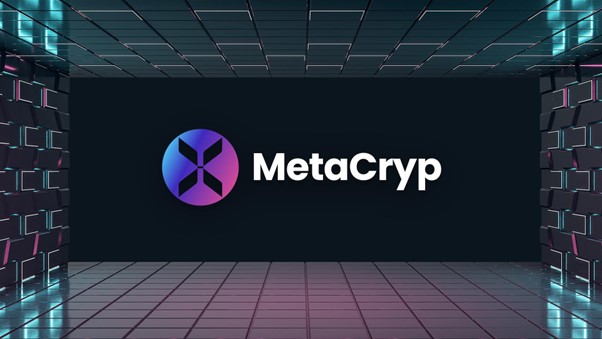 Blockchain, cryptocurrencies, the Metaverse, and non-fungible tokens (NFTs) are paving the way for new ways to escape the rat race and enter a safe, drama-free environment. Now that we have this cutting-edge technology, we can all step out of the cold and into the sunshine, explore a fantastical world, communicate with people across the globe, and even play games.
Through the Metaverse, one can create a unique environment, complete with all the bells and whistles, meet new people, and have fun playing games without ever having to leave the house.
We have compiled a list of the top gaming tokens available for purchase in this post so that you can experience the boundless realm of the Metaverse – The Sandbox (SAND), Enjin Coin (ENJ), and new crypto MetaCryp (MTCR).
Explore the Metaverse with The Sandbox (SAND)
Regarding online gaming, The Sandbox (SAND) is a blockchain-based utopia. The land is a digital property that can be created, bought, and sold by anybody with access to the network. The project combines a programmable environment with non-fungible tokens (NFTs), which are becoming increasingly popular in the gaming industry, to give players a richer, more interactive gaming experience.
The Sandbox takes on two major problems in the gaming industry: locked funds and a lack of transparency. Several routes exist in the Sandbox for players to withdraw their funds and use them in other games or the real world. In the Sandbox, users can use a basic Ethereum blockchain explorer to confirm any item's authenticity, history, and capabilities.
Players can generate passive money by collecting land access fees from other players. As players acquire more land or improve their existing holdings, so do their rewards.
Have Fun with Enjin Coin (ENJ)
Enjin Coin (ENJ) is a digital asset used to back the value of blockchain assets developed on the Enjin online gaming creation platform. This digital asset is built on the ERC-20 standard.
This open-source platform was designed specifically for online gamers and the gaming community. It enables virtual ownership of items and trading between players and community members, all of which are made possible through smart wallets.
While ENJ was first developed on the Ethereum blockchain, the company has just finished a funding round that raised over $19 million and will use that money to create a blockchain for NFTs based on Polkadot.
The DeFi world has a new GameFi Token – MetaCryp (MTCR)
Through their new Network, MetaCryp (MTCR) is providing people from all over the world with an environment that seems like a home away from home. The MetaCryp Network is the very first GameFi space in the world. It is a community-focused ecosystem that provides its users with a location that feels just like home, where they may indulge in intense fun and let their wildest imaginations run free.
MetaCryp is developing a new space to advance the direction DeFi and the metaverse are headed. This new space is built on the Binance Smart Chain. They are concentrating on developing products compatible with one another in high-end gaming systems, DeFi, and NFT software programs. The objective of the MetaCryp Network is to achieve a position of prominence among those capable of producing a secure and entertaining environment for all its users. These users will be able to take advantage of modernized tools in blockchain technology, the Metaverse, Play2Earn gaming, advanced DeFi platforms, socializing, and all things related to the metaverse in terms of gaming, events, and collectibles.
In addition, playing games on the 'Play-to-Earn Ecosystem' allows users to earn $MTCR tokens without leaving the comfort of their homes. It ensures they will have the opportunity to earn money using the $MTCR token, in-game assets, or NFTs.
There are 500,000,000 MTCR tokens available in circulation. On your first purchase, you can receive a 32% incentive. You will also receive a 10% discount when purchasing MTCR tokens with Ethereum and 8% and 13% discounts when purchasing with BTC and BNB, respectively.
To find out more about MetaCryp Token (MTCR), visit the links below:
Presale: http://presale.MetaCryptoken.io/
Website: http://MetaCryptoken.io/
Telegram: https://t.me/MetaCrypOfficial
Disclaimer: This is a paid release. The statements, views and opinions expressed in this column are solely those of the content provider and do not necessarily represent those of Bitcoinist. Bitcoinist does not guarantee the accuracy or timeliness of information available in such content. Do your research and invest at your own risk.