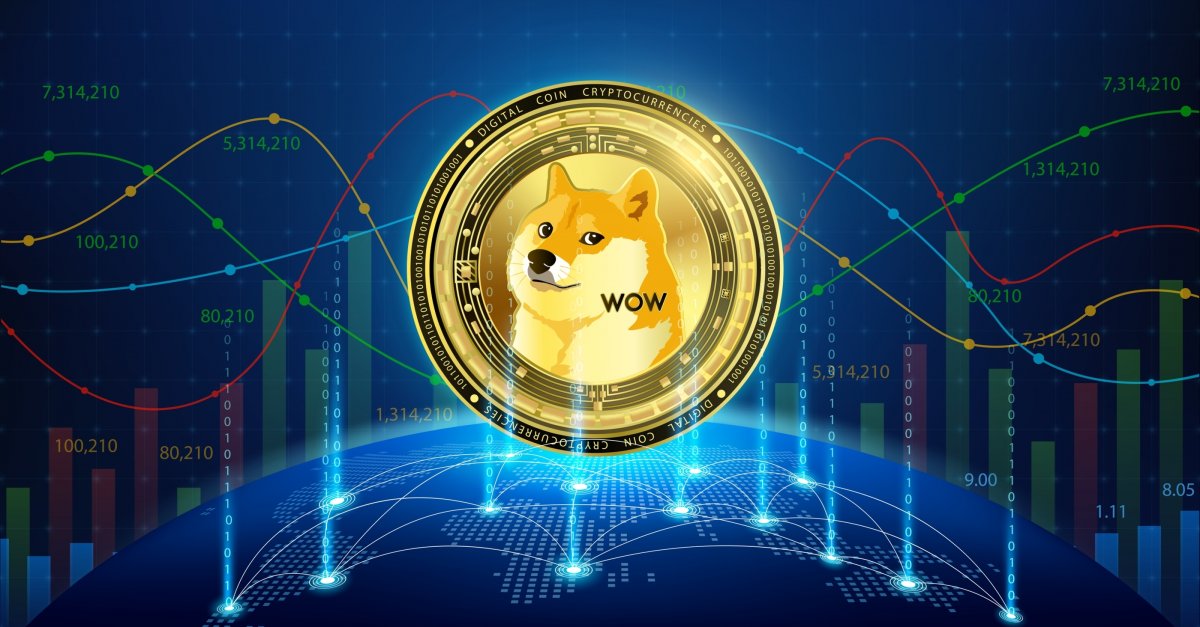 Dogecoin (DOGE) is one of the most popular meme coins, sitting among the top 10 cryptocurrencies in the world, as of 21 July 2022.
DOGE draws a lot of its fundamentals from bitcoin (BTC), however it differs in terms of its maximum supply. While BTC has a hard cap of 21 million coins, DOGE has no ceiling to the amount of tokens that can be minted.
Over the years, the dog-themed crypto has seen its price skyrocket from less than a cent to hit an all-time high of about $0.73 in early May 2021. 
The dogecoin community is hoping the second biggest proof-of-work (PoW) cryptocurrency "moons" to hit the one dollar mark in the future. For now, DOGE holders have to navigate through the bear market of 2022 which has seen the meme coin fall about 90% from its record high, as of 21 July 2022.   
How many dogecoins are there in the world? In this article we'll look at the meme token's ownership concentrations and supply, and evaluate how many dogecoins are available for trading. 
How many dogecoins are there?
In short, the total number of dogecoins will continue to rise with time as the cryptocurrency does not have a hard cap.
Like bitcoin, dogecoin emissions were halved after every block milestone. At its genesis, a maximum of one million dogecoins were minted every block. Dogecoin block rewards were designed to fall to and remain fixed at 10,000 coins a block, starting with the 600,000th block. 
As of 22 July 2022, data from Blockchain showed that over 4.3 million blocks have been added to the Dogecoin blockchain, therefore 10,000 dogecoins are being issued with every block.
How many dogecoins are there in circulation? Based on the data, the circulating supply of DOGE stands at over 135.3 billion, as of 22July 2022.
Who owns the most dogecoins?
Beyond learning how many dogecoins there are, traders may benefit from knowing who owns them, as the biggest holders may affect coin price when they sell. 
Data from Blockchair showed the biggest holder of DOGE held over 41 billion coins in their wallet which amounted to 30% of the total circulating supply, as of 22 July 2022. 
It should be noted that while  blockchain data is transparent and wallet balances are viewable to the public, the identity of the wallet address holder remains anonymous.
The data also showed that the top 10 biggest dogecoin holders controlled over 51% of the circulating DOGE supply, as of 22 July 2022. There are 12 wallet addresses that hold more than 1 billion dogecoins each in them.
"This level of concentration is fairly concerning especially since Dogecoin has been around for so long," blockchain research firm Messari said in a report dated 20 July 2022.
Tesla (TSLA) founder Elon Musk and Shark Tank investor Mark Cuban are some famous names who are said to own DOGE. Unfortunately, there is no way to know how much DOGE they hold through public blockchain data unless they disclose the figures themselves.
On 20 July, Musk revealed that Tesla held dogecoin in its digital asset holdings, as reported by TechCrunch. Meanwhile, the EV maker's second-quarter earnings stated that the company had digital assets worth $218m, as of 30 June 2022. 
The company did not disclose the total dogecoins in its holdings. Tesla also holds BTC in its digital asset holding. 
Note that all trading contains risk of losses. Always conduct your own due diligence before trading, looking at the latest news, fundamental and technical analysis and analyst commentary. Remember that your decision to trade should depend on your risk tolerance, account size and trading strategy, and your experience in the markets. Never trade money you cannot afford to lose. 
What is your sentiment on DOGE/USD?
Vote to see Traders sentiment!
Dogecoin: Top meme coin
Dogecoin is an open-source peer-to-peer digital currency created in 2013 by Billy Markus and Jackson Palmer. DOGE was forked from PoW crypto Litecoin (LTC). LTC is commonly referred to as a "lite version of Bitcoin".
The founders of dogecoin created the popular Shiba Inu-themed coin to parody the proliferation of cryptocurrency altcoins being touted as alternatives to Bitcoin. Both Markus and Palmer are longer involved in the project.
Dogecoin differs from Bitcoin in several ways. The most relevant difference is Dogecoin's use of an algorithmic architecture called Scrypt, which was pioneered by Litecoin. Scrypt technology requires less processing power compared to Bitcoin's SHA-256 algorithm.  
The average time between blocks in the Dogecoin blockchain is about one minute compared to about 11 minutes on Bitcoin, data from Blockchair showed.
The primary use case of DOGE is to facilitate payments. Adoption of DOGE has been helped by endorsements from famous celebrities. 
In March 2021, Cuban's Dallas Maverick announced that fans can use DOGE to buy match tickets and team merchandise online. Similarly, in December 2021, Musk tweeted that Tesla will accept DOGE as payment for its merchandise.
Tesla will make some merch buyable with Doge & see how it goes

— Elon Musk (@elonmusk) December 14, 2021
Dogecoin is currently the number one meme coin in terms of market capitalisation, ahead of the likes of Shiba Inu (SHIB) and Dogelon Mars (ELON). The non-profit Dogecoin Foundation was founded to support the coin's development. Ethereum (ETH) co-founder Vitalik Buterin is an advisor to the Dogecoin Foundation.
"Whilst many crypto projects are trying to be stores of value such as BTC, or engineering platforms such as ETH, we believe that the innovative step has already been made by Satoshi with the invention of crypto CURRENCY," said Dogecoin Foundation on its website.
"Dogecoin already has the fundamentals required to achieve these goals by focusing on simplicity, utility & reliability, and that's what this Trailmap is focused on," they have added.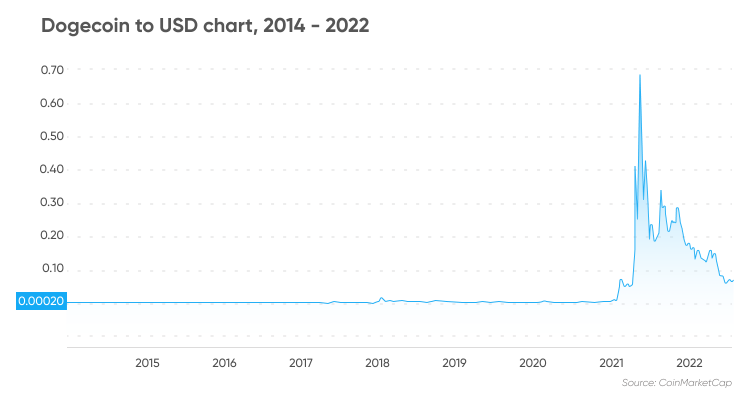 The meme coin had a bumper 2021, reaching its all-time-high in May. In 2022, it's been a different story. Along with other cryptocurrencies, dogecoin is suffering through bearish price action amid soaring inflation, tightening monetary policy, recession fears and risk-off shift in investor sentiment.
The cryptocurrency crash of 2022 has pushed bitcoin (BTC) slump over 40% year-to-date.
NOTE TO ARINA: INSERT VIDEO:
FAQs
How many dogecoins are left?

Dogecoin does not have a cap to its supply. 10,000 DOGE are minted with every block. Based on the Blockchair data, the circulating supply of DOGE stands at over 135.3 billion, as of 21 July 2022.
How many dogecoins are lost?

On-chain data does not reveal the number of DOGE lost. However, data from IntoTheBlock showed over 65% of DOGE holders held their tokens for over one year, thereby holding back  coins from entering the market.
How many dogecoins are mined per day?

10,000 dogecoins are minted per block. The average time between blocks in the Dogecoin blockchain is about one minute, according to Blockchair data.
What happens when all dogecoins are mined?

Dogecoin does not have a cap to its supply. 10,000 DOGE are minted with every block.
Further reading: