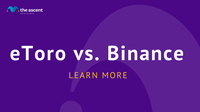 With Binance, fees can get a bit complicated. Fees are charged depending on your trade volume in the past 30 days, with reductions applying for the amount of Binance Coin (BNB) you hold. Different fees are also charged depending on whether the transaction is adding liquidity to the market (maker fees) or taking away liquidity from the market (taker fees).
With all of these considerations in place, fees with Binance can range from as low as 0.02% on maker transactions and 0.04% on taker transactions.
The highest fees on Binance, charged for users with low trade volumes, max out for both maker and taker fees at 0.10%, a relatively low fee.
When starting out on Binance, a trade for Bitcoin would have a 0.10% fee. Users can get a 25% reduction for transaction fees by paying with Binance Coin. Assuming a new user with no existing trading volumes on Binance has no Binance Coin to use for fee payment, the fee remains the same. With Binance, a purchase of $100 of Bitcoin would cost the user an extra 0.10% fee on their purchase, making the total cost $100.10. This is a low fee compared to many other popular crypto trading platforms.
Learn more: Read our full Binance review
The eToro fee structure seeks to make pricing simple for users. Instead of waiting to tell you the fees until after you have committed, eToro includes a standard fee for buying or selling different types of crypto on its platform, determined by the currency. This makes things simpler for the user, but eToro charges a higher fee than the competitive numbers of Binance.
For example, the purchase of $100 worth of Bitcoin (BTC) with eToro would include the cost of the coin, plus eToro's fee of 0.75% on BTC, making the total $100.75. This is considerable compared to the pricing structure of Binance, however some might find the straightforward pricing of eToro to be worth the cost.