For those of you who dont know, BAYC stands for The Bored Ape Yacht Club which is a collection of 10000 unique Bored Ape NFTs— unique digital collectibles living on the Ethereum blockchain.
And people can use them to create other stuff, the Bored Apes are entering the music industry and forming an all-star metaverse group. (Kinda like a meta Gorillaz).
10:22PM (Universal Music Group's next-gen Web3 label) have announced the launch of NFT supergroup KINGSHIP made of four BAYC Apes. The group will record music for streaming platforms and perform in the Metaverse.
Head of 10:22, Celine Joshua, explained that:
We could think of KINGSHIP as an NFT band or like characters. She added: "The characters will come to life. The apes will come to life.
Jimmy McNeils (an NFT collector known as j1mmy.eth) has helped in forming the group (similar to a meta Simon Cowell) KINGSHIP. The line-up consists of a Mutant Ape and three Bored Ape characters, including rare Golden Fur and Bluebeam Apes. Existing Bored Ape and Mutant owners will have early access to all KINGSHIP NFTs, experiences and narrative selection.
"Just as we would with any artist or creator, my team and I will work with KINGSHIP to sharpen their vision and develop their unique sound. Each member of the group has their own story and personality that influences and contributes to KINGSHIP's overall narrative. Through music and events across the Metaverse, we will bring the Apes in KINGSHIP to life by building communities and utility and entertaining audiences around the world."

Celine Joshua
10:22 will also handle KINGSHIP's community-based products, activation and experiences in the Metaverse. With the launch of the band, they hope to cultivate a new generation of artists, fans and community engagement.
Via NFT evening
Categories
Tags
Author
Mark Westall is the Founder and Editor of FAD magazine Founder and co-publisher of Art of Conversation and founder of the platform @worldoffad
David Salle has debuted his first NFT, titled A Well-Leafed Tree at his retrospective at the Brant Foundation with cultural agency DMINTI.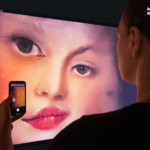 Tezos will present a unique interactive NFT exhibition at Art Basel Miami Beach Titled Humans + Machines: NFTs and the Ever-Evolving […]
Tezos, an energy-efficient open-source blockchain, will present an NFT art experience at Art Basel Miami Beach this December, as an official partner […]
1-54 in collaboration with Christie's presents an auction of Nigerian crypto-artist Osinachi's NFT series  Different Shades of Water. The digital […]