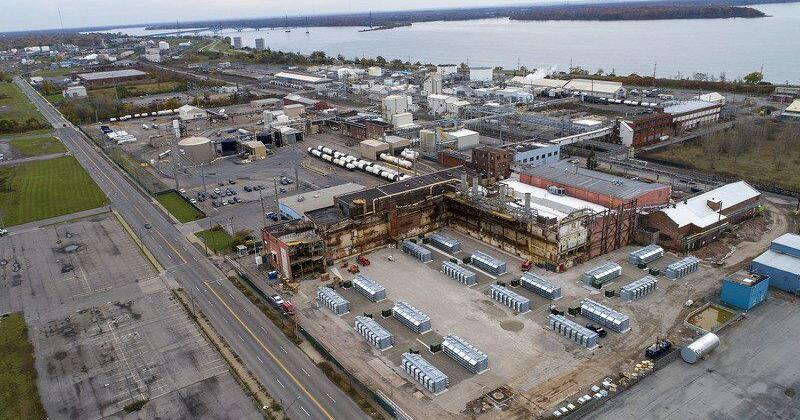 The new economy continues to make its way to the Cataract City and surrounding areas. From DoorDash to short-term rentals and solar energy, new ways of doing things are taking hold locally.
These new ways of making money include the digital economy.
At 2747 Buffalo Ave., US Bitcoin, inc. has set up shop, confirmed Asher Gadoot, the company's chief operating officer.
Jon Williams, the property's owner, said crypto mining has been occurring at the location and he is aware neighbors have expressed concern about noise levels at the facility.
Mayor Robert Restaino met with him to discuss the concerns, Williams said, adding he also had discussions with his tenant about the concerns of the city administration and those in the neighborhood.
"I had a Bitcoin mining tenant in the main building there and the lease was transferred to US Bitcoin," Williams said, "they expanded operations to the outdoors, and I think that's when the controversy began with the city."
Williams said he has been dealing with several Bitcoin miners and indicated US Bitcoin was not his only tenant undertaking mining operations.
While Williams did not want to discuss specific properties or tenants, he pointed to several reasons why crypto miners are attracted to properties that formerly housed manufacturing facilities in the Northeastern United States.
"Energy access, a moderate climate and available acreage," Williams said, are the primary reasons those in the Bitcoin mining industry are looking to this region. He indicated heavy electrical infrastructure on former industrial sites was an added enticement.
"The caveat is they have to comply with local ordinances," he said.
Colin Read, a professor of Economics and Finance at the State University of New York at Plattsburgh, and a former mayor of the City of Plattsburgh, proposed the first-ever cryptocurrency mining moratorium during his term as that city's chief executive.
During the moratorium, Read helped put into place a crypto-regulatory regime that included several city ordinances. He said, "the city had been inundated with (power allocation) applications from Bitcoin miners, and my predecessor really did not understand cryptocurrency."
In Plattsburgh, Bitcoin miners "(came) in under the radar, and were not transparent," Read said. Adding, "they had no interest in complying with local ordinances."
Read indicated that miners in Plattsburgh did not have a long-term stake in the city and that their power applications stopped after the ordinances went into place.
Not in the Falls, said Gadoot, "That's not the way we operate. I've signed a 15-year lease."
He also said the company "has already spent over $1 million dollars in the local economy, paying salaries (as high as $25/hour), and contractors."
"We want to work with the community," Gadoot said, when reached by telephone just before the holiday. "I have met with the mayor and started walking the neighborhood last week to engage people."
The company has also erected noise barriers Gadoot said, and is monitoring noise levels.
"When we looked at Niagara, we saw it as a place that once thrived with manufacturing," said Gadoot, "With some of the industrial properties, we think we offer a unique solution, we don't have to dig, we place our containers on top of the ground."
In addition to working to comply with the ordinances, address the concerns of neighbors, and grow the local economy, Gadoot said US Bitcoin, Inc. was looking into other ways to make a positive impact locally.
"We want to work with the local colleges and universities," said Gadoot, "helping them to build a curriculum for study about our industry."
Another company in the Bitcoin mining industry, Wattum Management, has also confirmed it is now operating in the area.
During an online chat, Azam Roslan, a Wattum sales associate, said, "Our main facility is in Buffalo, Niagara Falls." As of press time, the company had not responded to requests for further information regarding their operations in the area.